5 Kitchen Flooring Options to Explore
Kitchen flooring must be many things all at once: it must be durable enough to withstand constant foot traffic, and attractive enough to be left in place for years after installation. It must match the style of the surrounding kitchen, and must also be easy to clean and maintain. It must be resistant to damage from water and food spills. 
This is a big lift for any flooring material, which means not all types of flooring can be used in the kitchen. In this article, we'll discuss some of the most popular kitchen flooring types, including their pros, cons, aesthetic appeal, and value. Keep these materials in mind as you work with your custom home builder to create your dream home (with a dream kitchen inside it!). 
1. Hardwood
Hardwood flooring has a reputation for being attractive and high-value, but also sensitive to water. It's this water sensitivity that leaves some home buyers surprised to find out that hardwood flooring has become one of the most popular flooring types for the kitchen. 
It's true that hardwood requires some extra maintenance and should not be allowed to stay wet for long periods. Constant exposure to moisture causes hardwood to swell and buckle, and can even cause it to stain or rot. In the kitchen, spills must be cleaned quickly to prevent moisture from penetrating hardwood's water-resistant seal.
Hardwood should not be wet mopped regularly, but only when necessary. In addition, hardwood flooring requires regular sealing and occasional refinishing to ensure that it remains water-resistant. 
Have a dog? Hardwood floors can be scratched by dog nails/claws, so take care to keep your dog's claws trimmed, or consider getting some protective footwear for your dog. 
That said, hardwood is a lovely material that compliments just about every style found in modern kitchens. It comes in numerous colors, sizes, and stains. Hardwood also has an ROI of approximately 70% to 80%. Depending on how long you plan to stay in your home, hardwood installation could help you sell your home in just a few short years.  
2. Stone Tile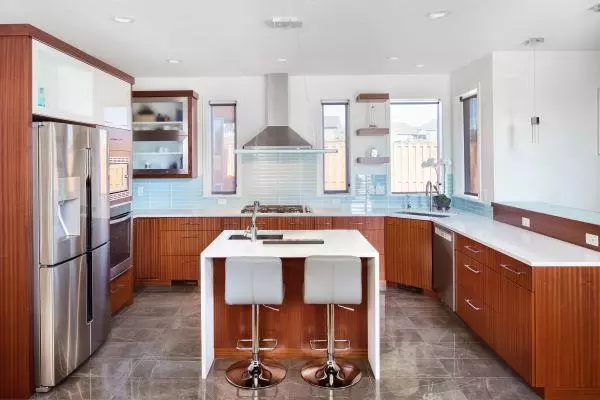 Stone tile is a highly durable flooring material that is not vulnerable to buckling or swelling due to exposure to moisture, so it stands in contrast to standard hardwood flooring. Stone tile also can't rot - another feature that makes it different from hardwood. This tile comes in a range of colors and finishes and can be made from different types of stone to achieve the look that you prefer. 
The downside? Grout, for one thing. Grout can easily become stained. Grout needs to be sealed periodically, or it will absorb liquids that are spilled on the floor. Once the grout becomes dirty, stains are very difficult to remove. 
Another potential downside of stone tile is that some stones need to be sealed or, like grout, the stone will absorb liquids and become vulnerable to staining. Sealing doesn't take long but does need to be done regularly. Stone tiles come in a range of colors, from gray to black, white, and more. 
If you have a dog, these floors are highly durable and resistant to scratching. However, some types of tile can break or chip when something heavy (like a ceramic dish) is dropped on it.
If you do a lot of standing when cooking at big events and on holidays, this flooring might not be the easiest on your feet. Tile tends to be colder than wood and other types of flooring, but radiant heat can be added below tile to amend this problem.
3. Luxury Vinyl Tile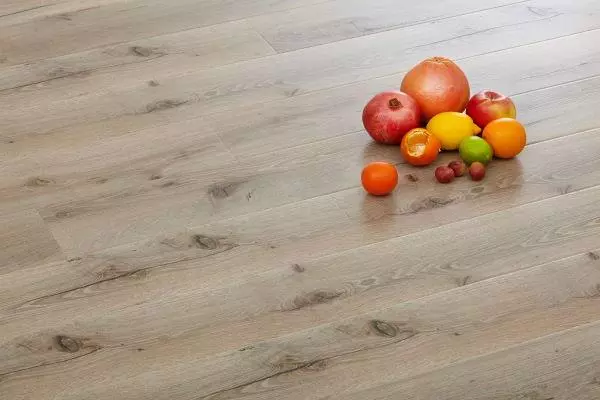 Luxury vinyl tile (LVT) is a product that's designed to look like hardwood but perform like vinyl. In fact, LVT flooring is so similar to hardwood in appearance and style that it's almost impossible to tell the difference, and many people are deceived into believing that LVT really is hardwood.
Dog owners appreciate luxury vinyl tile because it's scratch-resistant and waterproof. That makes it a great choice for the kitchen, bathrooms, and all the other rooms of the house. To clean LVT you just use a damp mop. 
Luxury vinyl tile comes in numerous styles and colors giving homeowners great options for adding beauty to their homes without the high price. 
4. Ceramic and Porcelain Tile
When some people think of ceramic and porcelain tiles, they think of the colorful, shiny, slippery tiles that they see on their bathroom walls. What some people don't realize is how flexible ceramic and porcelain tiles can be - in appearance and texture. In fact, ceramic and porcelain tiles can be made to resemble other materials including hardwood and stone.
These durable, long-lasting tiles are resistant to stains and easy to mop. Grout between tiles can become stained, but the tiles themselves do not absorb water and do not need regular sealing.
Like stone tile, ceramic and porcelain tile is very durable and scratch resistant (again, good for dog owners!), but this type of tile can also break during high-impact accidents.
5. Engineered Wood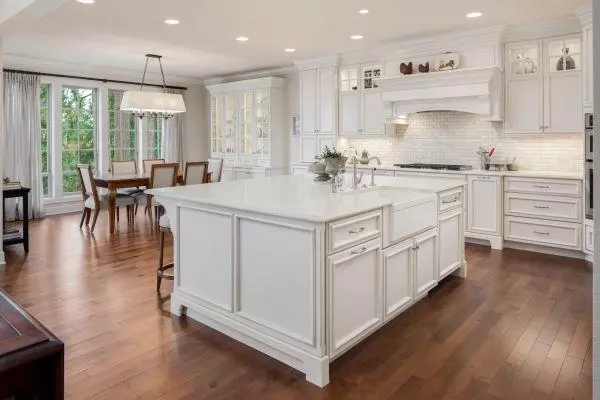 Engineered wood is another wood-alternative material. Engineered wood is actually made from a combination of materials including a veneer of actual wood on top, and crisscrossing layers of fiberboard beneath. Some types of engineered wood have a thick enough veneer that they can be sanded or refinished once or twice, though other types of engineered wood cannot be refinished without permanently damaging the flooring. 
Compared to hardwood, engineered wood is less vulnerable to damage from moisture because it's a more stable product when exposed to moisture. The crisscrossing layers of fiberboard beneath the veneer help prevent the planks from buckling or swelling, which makes engineered wood a good material for your kitchen. 
On the other hand, engineered wood isn't quite as high value as actual hardwood, because it can't be refinished as many times, and it's unlikely to last as long as hardwood. If you're a dog owner, this type of flooring is just as vulnerable to scratches as hardwood, because the top layer is made of real wood veneer. 
Which One is Right For You?
Selecting the right flooring for your kitchen can be tough. When trying to make a decision, consider:
Required maintenance. How much time are you willing to spend maintaining your kitchen floors?
Durability. How much wear and tear do your kitchen floors have to endure? 
Aesthetics. What flooring type is most attractive to you?
Value. Do you plan to sell your home in the future?
Pets. Do you own a dog or another pet that's likely to scratch or damage your floors?
If you're still having a hard time, visit a showroom where you can view materials up close. Touching the materials and seeing them in person may make your decision easier.  
Build Your Dream Home With Sugar Creek Homes
Your dream home comes down to many things: different materials, the perfect layout, a pleasing style, and total functionality. It's hard to bring all these variables together in one place.
That's why it's important to work with a team of professionals who know how to guide you through the process. Contact Sugar Creek Homes to get started with your custom home.