When you can't find the home you want in the existing home market, Sugar Creek Homes is the company to see for new home construction in Madison WI and the surrounding areas. We build the exact home you want, on your land. If you don't already have a piece of land, we'll help you find it.
Tim Burke, military veteran and owner of Sugar Creek Homes, believes that service and quality are non-negotiable when it comes to building your home. He's been building homes in the Madison, WI area since 2003. With each new home construction project, he brings the same discipline, dedication and work ethic he gave to the US Army for 20 years. Perhaps that is why his customers feel like they can trust him immediately upon meeting him.
What We Build
Energy Efficient Homes
At Sugar Creek Homes we specialize in building energy efficient, "Focus on Energy" certified homes. To be "Focus on Energy" certified your home must be at least 25% more efficient than those homes built to standard code. To us, that's not good enough. Our homes with finished basements consistently come in above 35% more efficient. That means real savings in your energy bills.
The Most Requested Home Styles
The styles we build most are prairie, craftsman and traditional. As a general contractor though, we will build whatever style home you like. Ninety percent of our buyers request ranch style homes. But we also build two-stories, and two-stories with main level master bedrooms. If you already have a floor plan in mind, we can build it. If you want to customize it or you want one totally from scratch, we'll work with you to design your perfect home. And, design work is FREE when you build with us.
New Home Construction Build Time
There are many steps in the new home construction process. However, once you approve the design of your home and assuming you already own the land, our new home build time, from start to finish, is typically four months.
What We Consider Standard
When it comes to building a custom home, some builders start with construction grade materials and upcharge you for what we consider standard. These are just a few of the items we include as standard:
Pella 250 Series Windows
CertainTeed Monogram or Restoration Siding
1-1/2" Foam under the basement floor
Spray foam in all penetrations into ceiling
No Money Down
If you are getting a loan for your new home purchase, we do not require a down payment. If you are paying cash, we ask for a small down payment.
Getting started on your new home is as easy as scheduling an appointment. We'll meet for about 45 minutes and talk about what and where you want to build. We'll review the process and next steps. There is no obligation with this meeting, it is just an opportunity for you to ask all the questions you have and to learn more about building a home with Sugar Creek Homes.
To get started on building your new home, schedule your no obligation, FREE new home information meeting today!
To learn more, please fill out the form below and we will follow up within 1 business day.
For faster response, please call
Start planning your new home...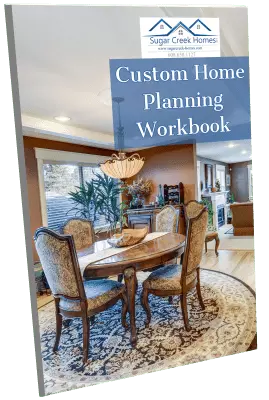 Download Your FREE CUSTOM HOME PLANNING WORKBOOK Now!