Madison Custom Home Builders
Sugar Creek Homes
While there are many home building contractors from which to choose,
we do things a little differently at Sugar Creek Homes.
First, to guarantee the highest quality custom home, Tim Burke, the owner of Sugar Creek Homes, will be on your homesite daily.
Second, we don't charge for floor plans. We'll design the home you want, and you don't pay a dime extra when you choose us to build your home. That means you save money on design fees.
Third, to guarantee the best customer service, you'll be working directly with Tim or his wife, Beth. No salespeople, no customer service reps. You've got the owner's ear.
SUGAR CREEK HOMES delivers quality custom homes and basement finishes in Dane or Northern Green County.
When you can't find the home you want in the existing home market, Sugar Creek Homes is the company to see for new home construction in and around Madison Wisconsin.
READ MORE
When you build a home with Sugar Creek Homes, we design your house plans for FREE. No need to pay for house plans. If you have plans you like we can build or modify those.
READ MORE
If finishing your basement is on your list of to do items, you are in the right place. We understand that a quality basement finish adds value and quality to your home.
READ MORE
Visit our gallery to see some of our past projects. Maybe you'll see something you like or be inspired to design something new.
READ MORE
What Does It Cost to Build a Home in Wisconsin?
Find out in our FREE Report.
In it you'll learn: What is driving the market? Costs, fees, and things you may not have thought of. And, so much more.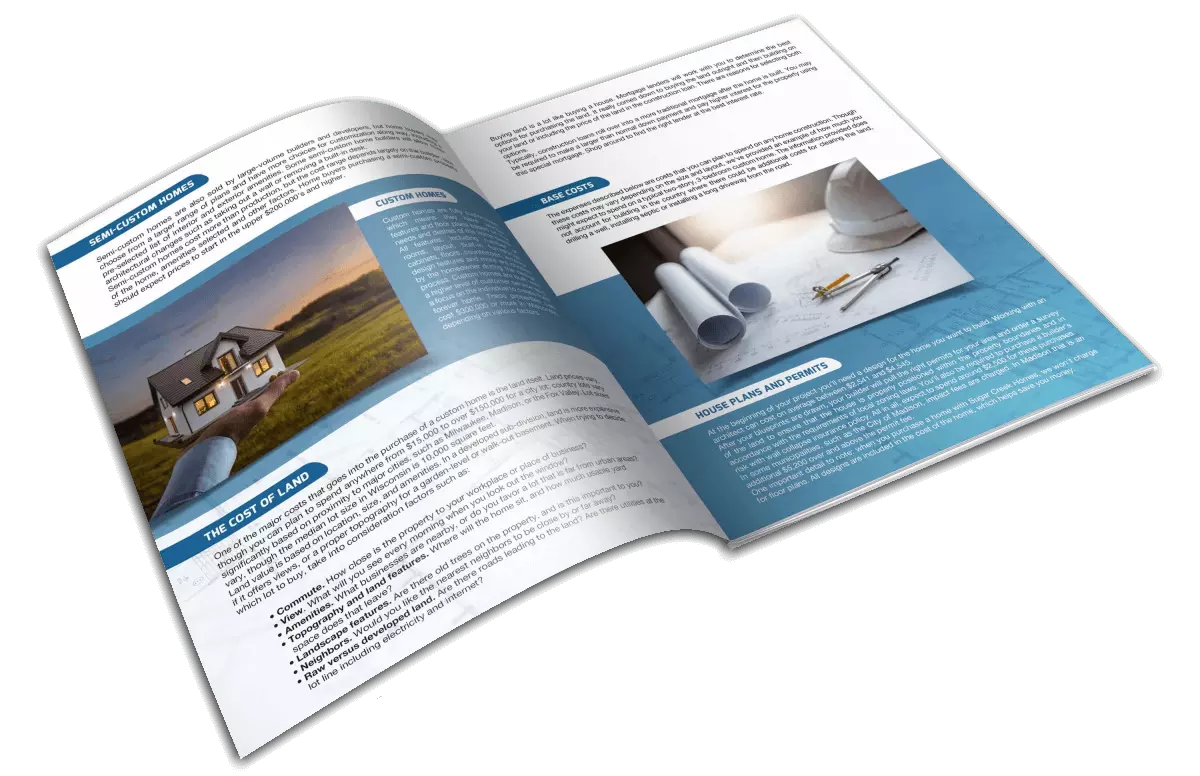 Build a Custom Home on Your Lot
We build the custom home you want on your lot. If you don't have land, that's not a problem.
We can help you find the perfect lot through our realty services.
When possible, we like being involved in the selection of your land because we can ensure that the home you want
will fit the lot and allow all the features you might want (like a walk-out basement or partial exposure.)
At Sugar Creek Homes top quality isn't an option; it is standard in every custom home we build. When you choose to build a home with us, you can be assured your budget will not need to be stretched in order to have the basic home comforts you desire.
Because we are committed to excellence, every aspect of your construction is of the highest quality. Our process and our attention to detail ensures your satisfaction. We use the best materials and the best trade partners to ensure the greatest craftsmanship and quality in your home.
We take great pride in our work and we aren't satisfied until you are.
"Focus on Energy" Certified Home Builder
As a Focus on Energy certified home builder your custom-built home will provide you:
Cost savings on your energy bills. Our homes are at least 25% more efficient than homes "built to code."
Indoor air comfort. A properly sealed home minimizes drafts making your home more comfortable year-round.
A Focus on Energy certification. Your homes certification means that it meets the Focus on Energy standards for air sealing, insulation, ventilation and combustion equipment.
Added value when selling your home. A Focus on Energy certification makes your home more valuable when the time comes to sell.
A Few Words From Our Clients
Tim with Sugar Creek Homes was amazing to work with! He finished our basement and was always available for me to ask questions, make changes and just chat about the design. Even when I made changes, he was happy to accommodate! I've also had a chance to look at the homes he's build and am very impressed with the quality of his work! I'd recommend him for any project!
Couldn't Have Hoped For Better
We had an excellent experience with Tim from start to finish. He helped us every step of the way, but also allowed us more freedom and control of the entire process than I'd have anticipated from any other builder. He was personable, kind, understanding, and down-to-earth, and kept our home on track and on budget. We could not have hoped for a better result and I would recommend Sugar Creek Homes to anyone looking to build a home.
Sugar Creek Homes is the builder you want to use if you're in the market to build a new home or you just want to remodel. We recently built out our basement and Sugar Creek did a quality job. The professionalism, the workmanship quality, keeping the project within budget and the timeliness of completion, everything was as good as promised. We would, and will, use their services again. Thanks Tim!