Home Design Trends in Wisconsin for 2021
The home design trends of 2021 have been greatly influenced by the year that was 2020--the year of the "new normal." Living, working and schooling at home caused people to reimagine their home , are making the move to the suburbs. People in smaller homes are looking for more space and opting for larger homes. Millennials, who are now of prime home-buying age, are buying and building homes. And interestingly, they are looking for forever homes as opposed to prior generations that bought the starter home with the plan to move into larger homes in the future.
And, while open space is still desirable for some things the ability to have separate places to work, learn, and relax is driving this year's trends.
Slow down and relax
Pre pandemic we were constantly on the go and our homes were more of basecamp. Today's home buyers want amenities that not only allow them to work and relax at home but also restore their souls. According to an article by the National Association of Home Builders, architects and designers are looking for opportunities to add visual and physical connections to nature. This means larger windows and more of them. The goal here is to bring in more natural light and provide views to the outdoors.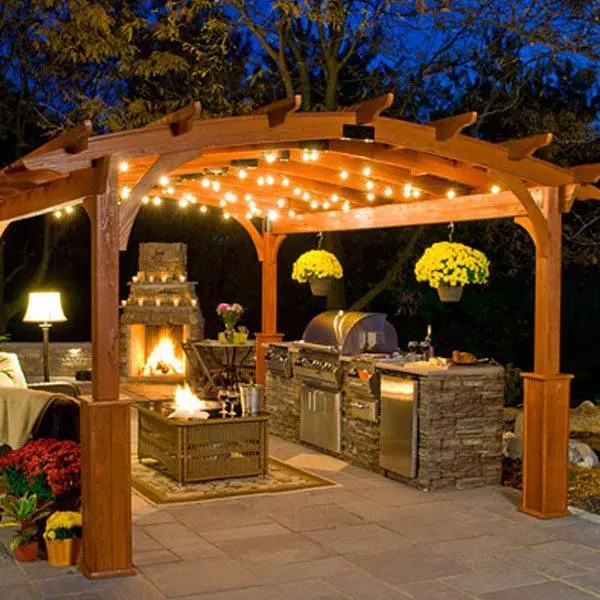 But people don't want to just look at the outdoors. People want to be outside also. This means indoor spaces that adjoin a patio or deck and multiple outdoor spaces that allow for different types of activities. Think outdoor kitchens, built-in firepits, a place to garden, or just sit and bird watch. Yes, growing your own food and bird watching was big in 2020.
Storage Space and Flex space
Do you remember the run-on toilet paper last year? Yeah, we all laugh at it now. But it was quite annoying when you couldn't find any. Well, that run on toilet paper and food created a desire for larger walk-in pantries. Perhaps a place to keep all that toilet paper, or maybe just more staples in general.
In addition to storage, people want to cut down on the clutter in their open space kitchen. They want additional space adjacent to the kitchen that will provide an area for homework, crafting, and virtual school. In some cases, they even want to cook outside the main kitchen area to make the appearance of an always clean kitchen.
Separate Space
With everyone working and schooling from home the ability to have your own space to work has become more important than ever. Home offices with built-in shelving and lots of natural light are on the rise. But being able to creatively separate open space areas is also. Think sliding glass pocket doors or French doors to create separate spaces on the fly.
Home Gyms
After work, comes working out and people want a dedicated space to work out at home. These home gyms are not necessarily large spaces. Something as simple as a 10x10 room in a basement with a television hookup and room for a treadmill, exercise bike, and some weights. Or a place to do yoga fits the bill.
Spa-like bathrooms
Being home a lot means being able to pamper one's self. Master bathrooms have seen a few changes including larger spa-like showers with rainfall showerheads and luxurious stand-alone soaking tubs. And, with the whole toilet paper panic, even bidets have become increasingly popular.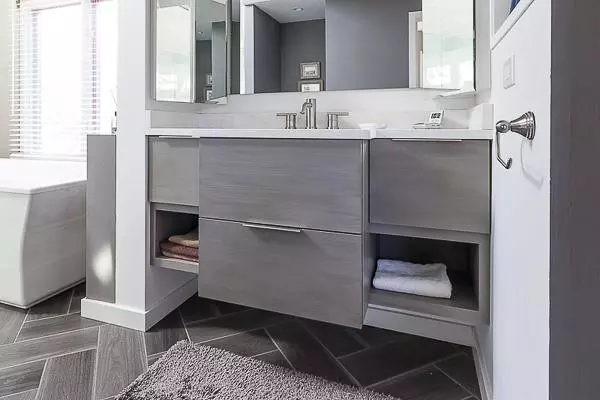 When it comes to cabinets, floating vanities are gaining popularity with lots of custom options from which to choose. The possibilities are endless with custom hardware or different faucets that can be customized to fit into any style. They give your bathroom extra storage while keeping it looking fresh.
Aging in Place and Room for Mom
As was mentioned earlier, millennials are building "forever" homes. As they do, they are planning for their own old age and also planning a space for Mom (or Dad) to move into in the future. With this, features like wider halls and doorways, curb-less showers, and handicap-accessible bathrooms are being planned in the design phase.
With the large baby-boomer generation becoming seniors, people are also creating separate living quarters for Mom by adding a kitchenette, extra bedroom, and bathroom in the basement.
Bursts of Color
Perhaps one of the biggest changes this year is that white kitchens, "Realtor beige" and cool greys are out. People want their homes warm and inviting. Colors, textures, and patterns are back and in a big way. Brick walls are back. Wooden textured walls are in. Small floor tiles and patterned floors from the 1950s and '60s are back. And bold colors are showing up on walls and painted cabinetry.
Whether you like this year's design trends or not there are two absolutes. Absolute one is that trends will change again next year. Absolute two is that you can build your home exactly the way you want it when you build with Sugar Creek Homes.