Kitchen Countertop Trends for 2021
In 2021, the best countertops come in amazing colors and patterns, and are built to last for decades. As you choose the counters for your new custom home, it's important to weigh the options and familiarize yourself with the countertop trends of 2021. The more you know about the countertops
Kitchen Countertop Trends for 2021
In 2021, the best countertops come in amazing colors and patterns, and are built to last for decades. As you choose the counters for your new custom home, it's important to weigh the options and familiarize yourself with the countertop trends of 2021. The more you know about the countertops that homeowners love, the easier your decision will be.
Most Popular Countertop Materials 2021
Quartz
Natural stone countertops were the most popular countertop material for many years, but today's homeowners gravitate toward low-maintenance quartz. This outstanding material looks just like natural stone, requires less maintenance, and often costs slightly less than natural stone.
Quartz is a countertop product made from crushed stone and resin. The mixture is cured into a slab, which means fewer seams and a more customized look.
Quartz is naturally non-porous and stain-resistant, which means it never needs to be sealed, waterproofed or polished. It's also the strongest, most crack-resistant, and scratch-resistant countertop material available.
Quartz comes in a range of colors and patterns, and can easily be made to look like nearly any type of stone including marble, granite, and soapstone. It also feels like natural stone, so even up close, most homeowners can't tell the difference.
This material is also incredibly durable. A good quartz countertop can last decades. It's a win/win for everyone.
Soapstone
Soapstone is an ultra-dense, stain-resistant stone that has a soft feel, similar to the feeling of a dry bar of soap. Soapstone is non-porous, so it never needs to be sealed. It's also more affordable than many other types of natural stone. It can be purchased for a cost that is similar to quartz.
This type of stone develops a "patina" over time. The patina can develop unevenly unless the counters are oiled periodically, so most homeowners choose to oil their soapstone counters from time to time.
Soapstone comes in limited colors: gray, blue-gray, deep gray, gray-green and cream. The distinctive texture, coloring and patina sets this material apart from other types of natural stone. Soapstone looks best in rustic, understated kitchens.
Granite
Until just recently, granite was the most popular and sought-after countertop material. Homeowners loved granite for its ultra-hard, durable surface, bright patterns and versatile coloring. This stone remains one of the more expensive natural stone options, second only to marble.
The trouble with granite - and the reason that many homeowners now prefer quartz - is its porousness. Granite absorbs liquids and can stain easily, so it needs to be sealed periodically. Sealing isn't difficult, but it is necessary for homeowners who want to avoid stains from red wine, cooking oil, soy sauce and other dark-colored liquids.
Nevertheless, this countertop material remains very popular. It adds beauty and value to your kitchen, and if you prefer all-natural surfaces in your home, this is the countertop material for you.
Marble
Marble is a relatively soft stone that's easy to sculpt and therefore, easy to scratch. There's nothing quite like the elegance of marble, so this stone remains a popular countertop material for homeowners who appreciate classic beauty. It also tends to be the most expensive natural stone option.
Marble comes in a range of colors, though most homeowners prefer white or gray. Like granite, marble needs to be sealed periodically or it will stain.

Laminate
Laminate countertops are made from resins that are laminated onto layers of craft paper. The layer of craft paper is topped with a decorative, printed layer, then the counter is finished with a layer of strong, transparent melamine resin. Laminate can be made to look like natural stone, but it's far more affordable than marble or granite. This makes laminate a popular, budget-friendly option.
Butcher Block
This is a countertop material that has only recently gained popularity. Butcher block counters are attractive, durable and have a unique natural beauty that looks good in nearly any kitchen. Wood can be very affordable or very costly, depending on the quality. The most expensive wood counters are just as costly as granite.
Butcher block counters can start to look dry and scratched over time, so they need to be oiled periodically to maintain water resistance, suppleness and consistent coloring.
Wooden countertops are naturally antibacterial and also quieter than natural stone. If you're looking for a material that has warmth and beauty, butcher block may be the right choice for you.
As a side note, many homeowners install wooden counters on their island and quartz or stone counters everywhere else. Work with your home builder or contractor to decide what look works for you.
Up and Coming Trend: Sustainable Materials
While the majority of homeowners are most interested in natural stone and quartz, some gravitate toward sustainable materials to enhance their home's eco-friendly qualities and reduce their carbon footprint. Popular options include:
Recycled glass. Recycled glass countertops are made from crushed pieces of glass, encased in resin. They come in many colors and patterns, and make a lively, attractive addition to your kitchen.
Recycled metals, plastic. There are many companies that make countertops from recycled materials like metal and plastic. Each material comes with its own unique look and texture. Shop around to find a recycled material countertop that most appeals to you.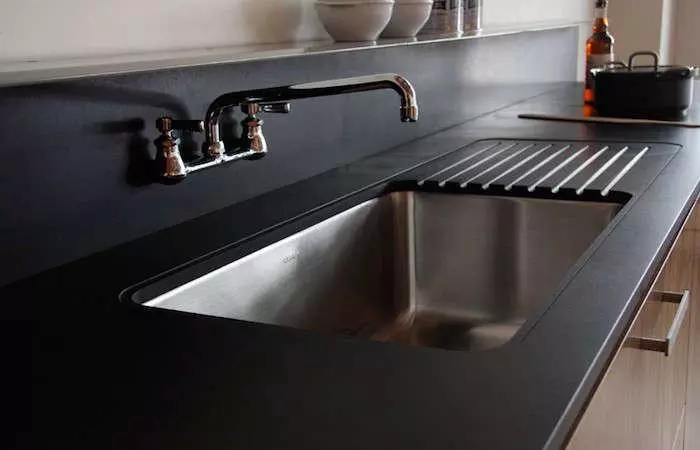 Paper composite. This may sound shocking, but countertops made from compressed, recycled paper feel more like soft stone than actual paper. Paper countertops are gaining in popularity. They make a splash with visitors and guests when you tell them what your counters are made of!
Which Colors?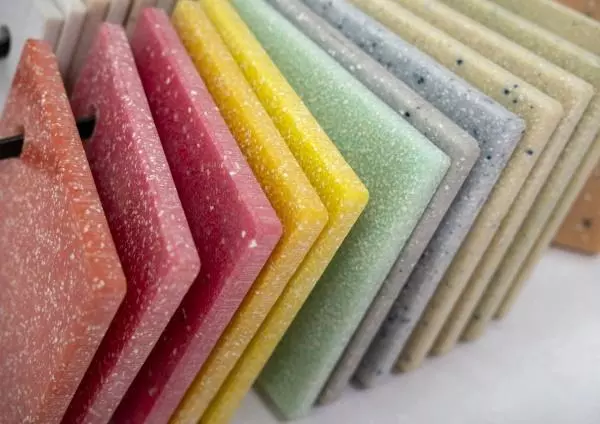 Choosing the right counters means choosing the right materials and colors. Picking the right colors for your counters can be a challenge. While neutral colors have universal appeal and are easy to match to your cabinets and floors, bright colors can be rewarding because they're so bold, vibrant and expressive. Some tips for choosing the right colors for your counters:
If you're planning to sell your home sometime in the next five years, neutral colors make the selling process easier.
If you'd like to choose counters in bright, bold colors, take care to choose a shade that can be easily matched to other colors you appreciate. Try not to choose a color that will make future kitchen remodels and changes more difficult.
Ready to Design Your Custom Home? Call Sugar Creek Homes
There's nothing more rewarding than building your own home, designed to your own specifications. Building a custom home means you can choose all your own materials, including your own countertops, flooring materials, cabinets, and more.
At Sugar Creek Homes, we'll walk you through the design process as we help you build your custom home. To find out more about designing your kitchen and your entire home your way, call us to make an appointment for an initial consultation.